Skip to Content
How Do You Select a Spine Surgeon?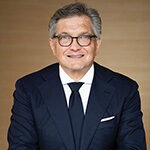 Q: What are some ways to select a spine surgeon? Can a patient learn about outcomes of a surgeon's previous operations?
A: First of all, with both orthopedic surgeons and neurosurgeons, the important thing is that your surgeon is fellowship trained in spinal surgery. That is something that every patient can verify.
For spinal surgeries, there is no registry of surgical outcomes. However, there are several indicators that I encourage patients to use to figure out which surgeons are open with information and which surgeons have a good reputation.
You can ask, "Do you operate on other surgeons as patients?" It is a reasonable question to ask. It may prompt the surgeon to expand a bit more on their experience and surgical outcomes.
It is also important to determine if the surgeon is available for you as a patient. Do they give you their contact information — their email address? Does the surgeon or their office respond promptly? If they are not responsive before surgery, there is a good chance they are not going to be responsive after surgery either.
Another indicator of a reputable surgeon is regarding second opinions. If you see a surgeon who discourages you from getting a second opinion, that should be a red flag.
– Dr. Roger Härtl
This question was answered during the episode of Spine Time called "Neurosurgeons and Orthopedic Surgeons: Who Does What for Your Back?" A recording of this webinar, held on April 7, 2021, is available on YouTube.
To sign up for future episodes of Spine Time, where you can ask questions of our spine specialists, subscribe here.
See more Ask a Spine Doctor columns