Skip to Content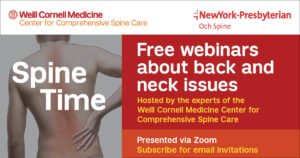 Spine Time is a new series of online seminars designed to help patients and their doctors develop a better understanding of what causes back and neck pain, what conditions can develop over time, and what the treatment options are. During each session, one of the Spine Center co-directors will host a lively and thoughtful discussion with spine specialists from different disciplines. The doctors will discuss back and neck conditions from the perspectives of pain management, neurology,  rehabilitation medicine, and neurosurgery. The sessions will be conducted on Zoom. The series is free, but you must register for each session. To receive emails notifying you of upcoming sessions, with instructions on how to register, please click here to sign up for our Back Pain mailing list, which is one of many topics you can sign up for.
Previous Spine Time Webinars are archived on our Spine Time playlist on YouTube. Here is a sample:

Click here to see the complete playlist.
Some of the most frequently asked questions from Spine Time are archived here, under Ask a Spine Doctor.