Skip to Content
About the Center for Comprehensive Spine in New York City
Millions of people suffer from neck or back pain at some point in their lives. In fact, it is estimated that 80 percent of us will deal with back pain at some point. Sometimes this pain can be attributed to trauma, a past injury, or an infection. More often the pain is chronic, progressive, and severe enough to impact the daily quality of life for those affected and their loved ones. The positive news is this chronic pain often responds to multiple levels of intervention.
About Our Team
Our team of physicians, nurses, therapists, and staff provide state-of-the-art, comprehensive, integrated care for patients with back pain and all types of spine-related conditions and injuries. Patients receive a complete continuum of care, from diagnosis to treatment and recovery.
We pride ourselves on a three-part plan for each patient: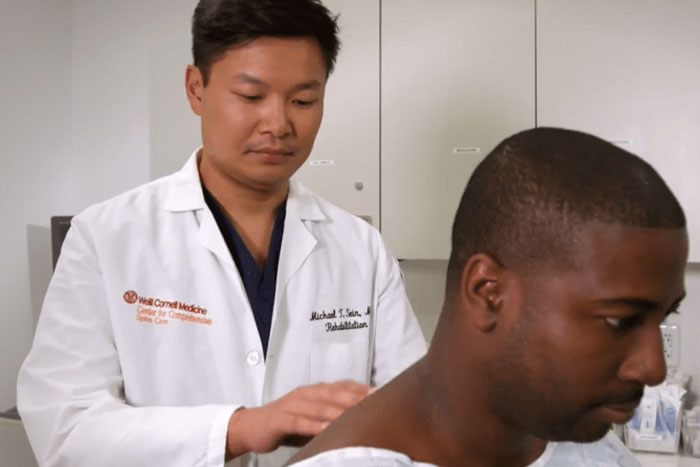 Expert, Accurate Diagnosis
Too many people suffer from back or neck pain from unknown causes — or worse, due to a misdiagnosis. Our world-class experts will pinpoint the exact cause of your pain to determine the most effective treatment and provide detailed second opinions, including complex cases.
Comprehensive Treatment
Our collaborative team approach allows us to draw on clinical knowledge from neurology, neurosurgery, rehabilitation medicine, and pain management. After assessing your case, the spine team will tailor a treatment plan that may include physical therapy, medication, interventional pain management, and physical therapy. When surgery is part of the plan, we offer the most advanced minimally invasive techniques, including lateral access surgery that dramatically shortens your recovery time. We offer on-site rehabilitation, minimally invasive procedures and injections, all in a brand new clinical setting.
Patient/Physician Partnership
Patient education is one of the cornerstones of our approach. We consider you the best advocate in working with us to build the most effective treatment plan to get you "back" to good health.
When not directly serving patients, our physicians, and staff conduct cutting-edge research as part of Weill Cornell Medicine's academic medical center, affiliated with NewYork-Presbyterian.
We've Got Your Back
For more information about our treatment options, contact our office today.