Skip to Content
Dr. Mizrahi Lends Expertise to Innovations in Pain Medicine Workshop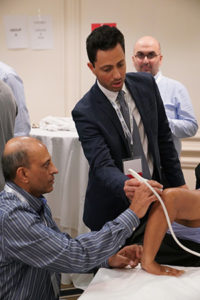 Mike Mizrahi, DO, a specialist in Physical Medicine and Rehabilitation at the Weill Cornell Medicine Center for Comprehensive Spine Care, recently participated as faculty at the "Innovations in Pain Medicine" workshop held by the World Academy of Pain Medicine Ultrasonography (WAPMU). The workshop was part of WAPMU's 6th Annual Meeting, held in February 2020 in Miami, Florida.
Dr. Mizrahi taught at a full-day cadaver session on "Interventional Ultrasound in Pain Medicine: Musculoskeletal, Spine and Nerves." He also took part in a short cadaveric training session, exclusive to faculty members, working with a new combined SCS/PNS neuromodulation device called Nalu whose internal pulse generator is significantly smaller than others in the field and is controlled through a smartphone app.
Dr. Mizrahi also co-presented with Dr. Mark Hurdle (Mayo Clinic – Jacksonville) on Ultrasound of the Elbow: Anatomy, Diagnostics and Treatment, which included an on-stage, live model demonstration followed by small group live model sessions.