Skip to Content
Dr. Baaj Co-Authors New Text on Revision Spine Surgery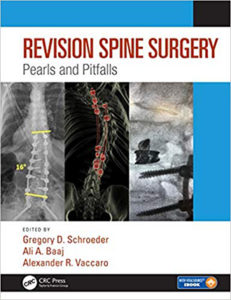 Dr. Ali A. Baaj of Weill Cornell Medicine Neurological Surgery has published a new book, "Revision Spine Surgery: Pearls and Pitfalls," which he co-authored with Dr. Gregory D. Schroeder and Dr. Alexander R. Vaccaro from the Rothman Orthopedic Institute. The book is an important educational resource for all spine surgeons.
Revision spine surgery is an important area for spine surgeons, but the topic is generally covered as a small section of larger spine surgery texts. Revision spine surgery requires a unique skill set and understanding of indications and advanced techniques. The book aims to give the reader skills that are critical to good patient care and outcomes — understanding when a simple revision is sufficient, when a more complex approach is necessary, and when a non-surgical option should be considered.
Drs. Roger Härtl and Jeffrey Greenfield, as well as several Weill Cornell Medicine neurosurgical residents and fellows, also contributed to this work.